]
by Rebecca M. Alvin
Perhaps it's the sense of immersion looking at a painting that is larger than you. Perhaps it is awe at the incredible use of that space. Perhaps it is some sort of primal privileging of bigger things in our field of vision over smaller, less dominating ones. Whatever it is, walking into the Hans Hofmann Gallery of the Provincetown Art Association and Museum (PAAM) for the Large Works from the Permanent Collection exhibition, it's hard not to gasp. The works themselves are a diverse array of paintings picked from PAAM's 3,000+ collection of Outer-Cape-related artworks, spanning a range of subject matter, approach, technique, and era. All 13 works share only their relatively large size, but they are arranged on the walls in such a way that each one has its individual space to be appreciated on its own as well as part of the group.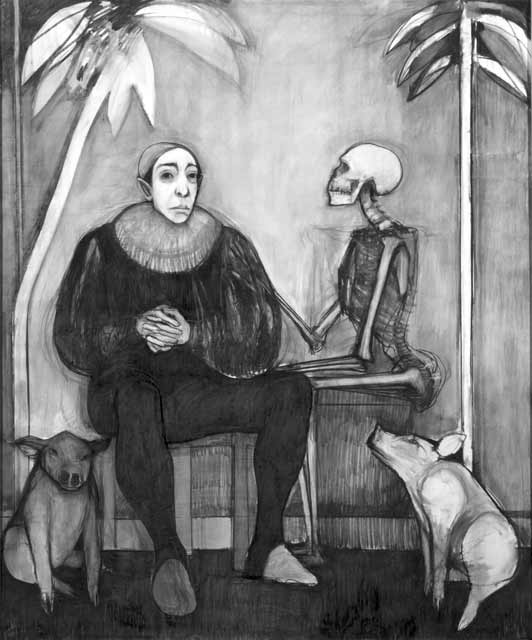 On entering, to the left is a wall of just four works: Fritz Bultman's Night Enters the Water (1983); Selina Trieff's Duo (1983); Nanno de Groot's untitled (Abstract Forest) from 1960; and an undated painting by Gandy Brodie called Trumpet Player. All four are striking in their own distinct ways. Trieff's features two figures—one, her familiar androgynous archetype, and the other a skeleton. The former looks out at us from the canvas while the latter is turned toward the figure, underlining its centrality. It is a charcoal drawing and therefore devoid of Trieff's usual color palette, underscoring the strength of her drawing abilities. It is placed with de Groot's untitled, nearly monochromatic painting in between two more vibrant works: Bultman's bold collage of painted paper (see the cover of this issue) and Brodie's kinetic portrait of the trumpet player, which has a notice next to it advising it is a work in need of restoration. (Anyone interested in supporting the repair and cleaning of this painting, estimated at $750, should contact [email protected] for details on donating directly for this purpose.)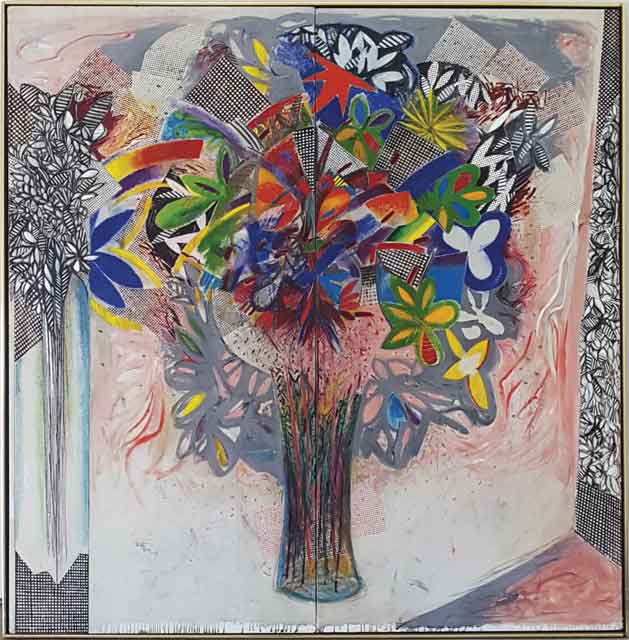 Directly in front of you on the back wall are two of the largest paintings in the show, Ed Giobbi's undated Optimistic Still Life and George McNeil's Beach Scene (1968). Giobbi's piece is cheerful and inviting, featuring an enormous bouquet of flowers in what appears to be a painting of a painting. McNeil's vibrant scene features dense chunks of orange, blue, and green paint in stark contrast to the flatter, more reserved beauty of Giobbi's flowers.
Along the right side is a quartet of paintings by Robert Beauchamp, Bill Barrell, Jay Milder, and William H. Littlefield—works that, again, share only their largeness, as each one is quite different, but connect to one another through complementary green and greenish colors. And directly next to the gallery entrance is a stunning Blanche Lazell, Painting No. 12 (1929), full of mystery with its keyhole center, evoking the 1920s era in which it was made. Also on this wall are paintings by Sarah Lutz (Archipelago, 2014) and Irving Marantz (In the Museum, 1965).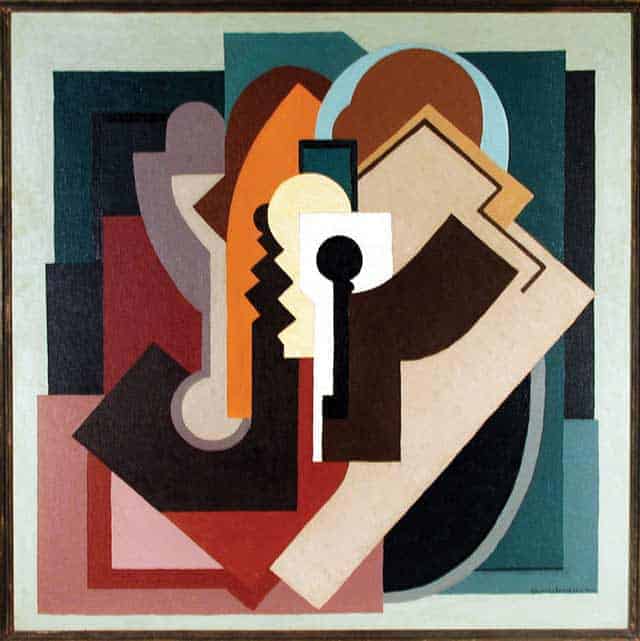 Taking in a collection of just 13 paintings, large in size, in the expansive space of the Hans Hofmann Gallery (combined with necessary social distancing enforced with timed ticket entry) allows us to spend time with each unique piece. And yet we still gain insight from their inclusion together in this show that yields further evidence of the depth and excitement to be found in PAAM's collection of Provincetown and Outer Cape art.
Large Works from the Permanent Collection is on view at PAAM, 460 Commercial St., Provincetown, through May 2, by reservation only. Visit paam.org to arrange a timed ticket ($12.50/Free for Members/Other discounts available). 508.487.1750.