]
by Rebecca M. Alvin
Top Image: Bill Traylor at work; Untitled (Dog Fight with Writing) ca. 1939-1940
Photo: Horace Perry, Alabama State Council on the Arts
There are many stories about Bill Traylor. And many of those stories have yet to be discovered, for sure. Bill Traylor: Chasing Ghosts, a new documentary directed by Jeffrey Wolf (and executive produced by Sam Pollard) tells us some of those stories, leaving others out, and in a sense just scratches the surface of all there is to learn about Traylor, who is arguably America's most important folk artist. This documentary is carefully constructed because of the climate in which it is being exhibited, one in which Traylor's work seems particularly relevant. Issues of race, music, art, family, tradition, modernity, talent, recognition, power structures, health, you name it—these are embedded within the life of this African-American former slave who became an artist in his eighth decade of life.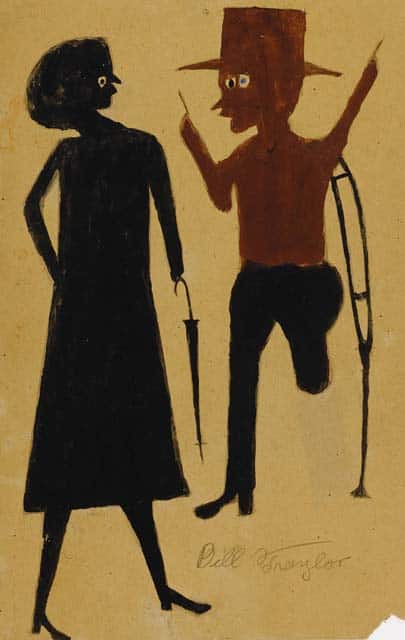 Wolf's documentary is even-handed and factual, raising many questions for us to consider through interviews with some of Traylor's many heirs, contemporary artists influenced by his work, art historians and scholars, and actors portraying individuals who actually knew Traylor (who died in 1949), most notably his contemporaries Charles Shannon and James Leavell, using recordings and documents as source material. In many respects it is a traditional documentary in form, however, the many layers of history and art criticism, and issues around reception and class, and race, move this film into provocative territory, opening a door on something we all could stand to learn more about: the ways in which the intersectionality of being an artist, a black artist, a poor artist, a self-taught artist, a former slave, a southerner in America in the early 20th century create unique circumstances not easily lumped into one identity experience. Traylor's work brings to light many aspects of American art, culture, and history, and Chasing Ghosts does a good job of situating the man in proper context, without falling into traps of simplistic assumptions and meanings.
It's doubtful we would be watching a documentary about Traylor now if Leavell had not come upon the 85-year-old Traylor drawing on cardboard in the streets of Montgomery, Alabama, and told his art teacher, Shannon. Shannon, a white artist whose own art work featured African-Americans as well as others in the American South of his era, took an interest in Traylor's unique drawings, bought many of them, and introduced his work to others in the art world in Alabama. And although in the 1990s, heirs of Traylor did question Shannon's role and in fact sued him, they dropped their lawsuit and, according to a New York Times article from that time period, admitted they'd been wrong in their suspicions of Shannon taking advantage of Traylor. This is the kind of thing another documentary filmmaker might make into something bigger than it is, but Wolf gives it just the amount of attention it deserves because the larger story is, thankfully, not about an old black man being taken advantage of; it's about a man driven to create art as an 85-year-old with no creative background.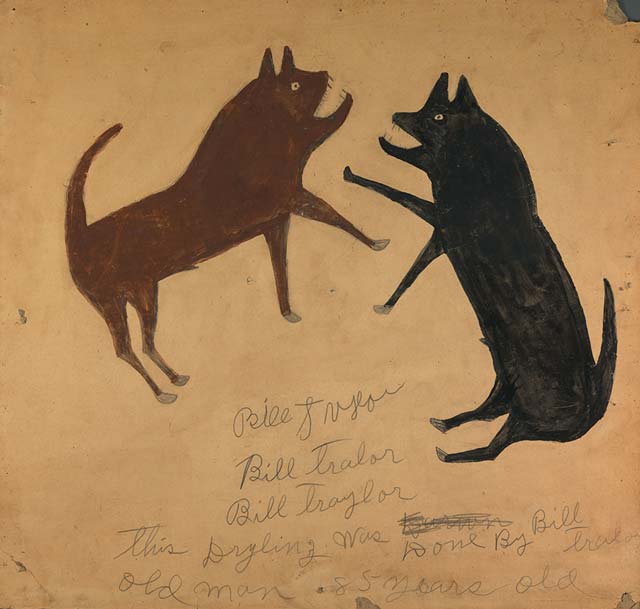 What drove him to this? Perhaps it was a desire to leave some sort of mark on the world, to commit his experiences and memories to paper, or something from deeper within him that had to come out. The works themselves are full of kinetic energy, with animal and human figures often in ingeniously impossible positions, taking the world around him and configuring it in a more interesting, evocative way than the realities themselves appear. Chasing Ghosts is an excellent introduction to Traylor and his work and the larger context within which he existed and his art continues to exist.
Bill Traylor: Chasing Ghosts (2020, 75 min.) will screen virtually April 16 – May 13 as part of the Doc Days Film Series hosted by Wellfleet Preservation Hall. For tickets and information visit wellfleetpreservationhall.org.