]
by Steve Desroches
Top Image: The Abelew Sisters, Outer Space Princesses, Halloween, 2018
In a very short time, Bonnie and Beth Abelew became bona fide Provincetown celebrities. They are absolutely everywhere over the course of a year in town. Every show, event, celebration. You name it and the Abelew sisters will be there, many times dressed in elaborate costumes sometimes with their golden retriever Gryphon in tow, who is equally festively adorned. They're like local Hilton sisters, but with personality and talent. They're the "it" girls of Provincetown with everyone asking, "who are those fabulous women?"
Born and raised in Plainview, N.Y., a hamlet in the town of Oyster Bay on the North Shore of Long Island, Bonnie and Beth began coming to Provincetown as little kids. Then it was just for quick day trips as the family was much more centered around Wellfleet, where they rented a home each summer. But come the late 1990s they discovered Provincetown nightlife and were hooked. They eventually sold a condo they had in Montauk, on the far tip of Long Island, a spot which, while beautiful, was nothing compared to Provincetown, and in 2015 bought a home in North Truro. That's when they really became a staple of the imaginative ether of Provincetown.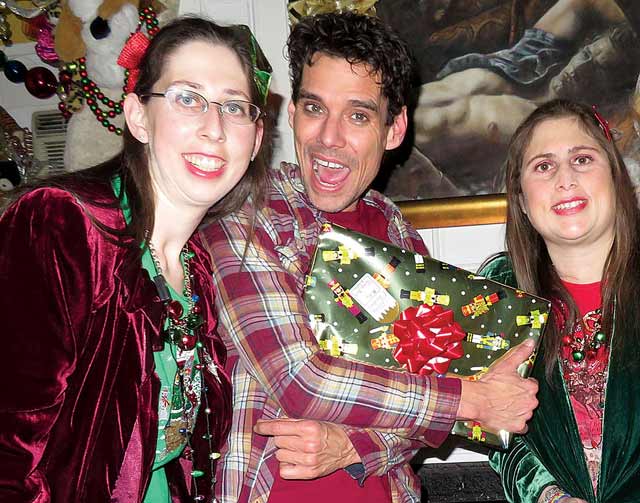 "We really consider Provincetown to be our real home," says Bonnie, along with Beth, who after the interview also submitted statements via e-mail to communicate in unison. "It's really the only place that feels like home to us. The only place we fit in. Whenever we go home to Long Island we can't wait to get back to Provincetown. We think about it all the time."
With their enthusiasm for Provincetown's live performance scene and festivals as well as their penchant for turning heads in show-stopping regalia, they've enchanted the town right back. As their reputation grows it's clear that the Abelew sisters are not run-of-the-mill scenesters, but real deal cabaret aficionados and artists in their own rite. They embrace any chance to be creative, be it Halloween, Holly Folly, or Carnival (they are already hard at work on their "Over the Rainbow" costumes for Carnival this year). Outer space princesses, sea serpents, woodland nymphs; those are just a few of their amazing creations. They do their own make-up as well, with every aspect of their creative lives being self-taught through trial and error over the years as they've loved dressing up for as long as they can remember.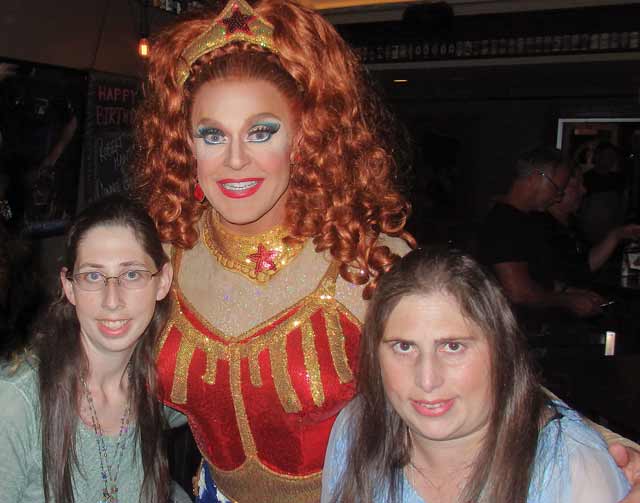 Their talents for costume design spill over to their deep love of dogs, which is another reason they love Provincetown as it's consistently ranked as one of the most canine-friendly towns in America. They spent a significant portion of the past several years planning, designing, and creating elaborate scenes and costumes for their dogs Phoenix and Gryphon, which results in a calendar that they send out to friends each Christmas. Their work is a bit like a whimsical James Bidgood, the window dresser and photographer who created fantastical worlds in his tiny New York City studio apartment. Sadly, Phoenix passed away last year, so now they work with sweet Gryphon, with plans to get a new puppy sometime sooner than later. They clearly have a touch of dog whisperer to them as well as the pups sit still for such elaborate photo shoots with Beth behind the camera and Bonnie primping and preening. But they do have a confession regarding their costume designs.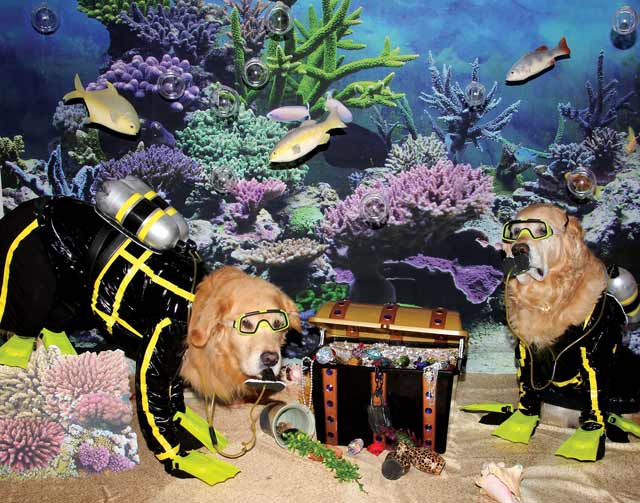 "We don't sew," say the sisters.  "We use glue guns a lot! We piece them together with all kinds of materials from here and there. We love themes! We love them the most!"
Their never-ending font of creativity includes their North Truro home, where each room is decorated according to a theme. The living room is in a "magical" motif, the bedrooms nautical, carousel, and peacock respectively, a mermaid bathroom, and a rainbow/Provincetown-themed room over the garage. Owning their own home allows them to spend much more time here as well as their mother Tami, who also gets in on the act joining them in costume or for a night out on the town. While their talents and intellect are innate and fostered, they also take inspiration from Provincetown, in particular live entertainment. They sit down with Provincetown Magazine, they said, and map out plans to see as many shows as they can. And they see everything, from the wholesome to the risqué to the outrageous.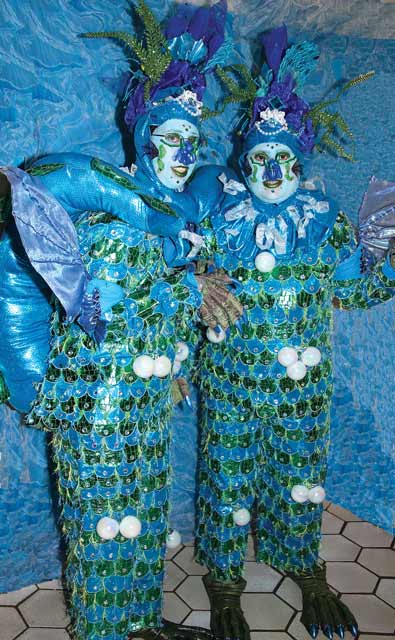 They began with drag shows in the late 1990s, quickly befriending stars like Jimmy James, Randy Roberts, and Kandi Kane. When they realized the scope and breadth of the offerings on stages here in Provincetown, they were completely obsessed. "We just couldn't get enough," say the sisters. "We still want to see more and more of it!" They've become such frequent fixtures of the show circuit in town, several venues escort them to choice seats whenever the Abelew sisters are in the house. "They're a big part of the town and here," says David Burbank, manager of events and entertainment at the Pilgrim House. "They come see everything and make quick friends with all the performers and staff here. We love having them in the house." They especially love the meet and greets after shows where over time they've become good friends with Provincetown performers, with particular favorites Suzanne Westenhoefer, Zoe Lewis, and Billy Hough. But they quickly keep adding to the list of performers until they've listed pretty much everyone. Recently, they even got in on the act themselves when they appeared in Zoe Lewis' virtual Speakeasy a couple of times during the pandemic.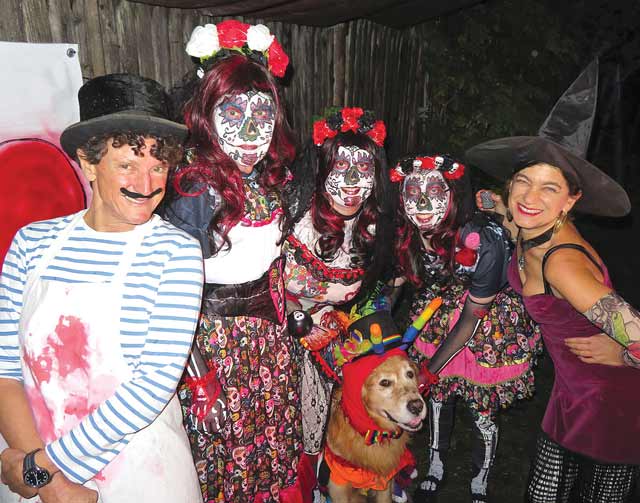 "Their support and enthusiasm for our Ptown community is incredible and it feels like when the Abelews are at your show you've made it," says Lewis. "They have been totally embraced and fit into our quirky town like a perfect puzzle piece. All summer long they attend concerts, dive bars, theme nights, and costume parties stunning everyone with their creativity and often go home with the prizes!"
The Speakeasy is a top love of theirs, but Scream Along with Billy is one of their particular favorite scenes.
"It was so fun that first night, everyone was there," say the sisters. "We saw Alison Angrim, Margaret Cho, Ryan Landry, Randy Roberts…everyone. It really seemed like the place to be! But after that, we just really got to like Billy, and Sue [Goldberg]. We even go see him whenever he plays in New York, in the city. Billy has also become a friend and has been very important in our lives. We've gotten to know so many people. Provincetown is so friendly. Everyone is so nice to us. Provincetown is the kindest place we know."