]
by Rebecca M. Alvin
As children we naturally depend upon our parents, seeing them as our guides, all-knowing gods in a way. Until we hit puberty. Then all bets are off. The relationship between a child and mother is not a static thing, not even in adulthood.
Journalist Sian-Pierre Regis begins his documentary Duty Free introducing his mother Rebecca Danigelis as a hard-working 75-year-old British emigré living in Boston. She discusses her work, focusing on the skills and experience she has working in housekeeping management at a hotel where she has been for decades. But when she is unceremoniously fired and left feeling unmoored, the portrait turns in a different direction. As she navigates the awful, demoralizing process of looking for a job in her seventies, Regis asks his mother to think about what she wants to do with her free time. It's clear that as a working-class woman from Liverpool raised by her older sister and subsequently raising her two sons by herself all these years, the thought of not working has never really crossed her mind. When he asks her to create a bucket list, though, she goes all in, and the rest of the film follows the pair as they try to get her all the experiences she has on that list.
This is Regis' first documentary, and it is also one in which multiple camera formats are used—both for logistical reasons and for the psychological impact of using a smartphone instead of a huge professional camera when documenting personal moments. While the big scenes of Rebecca sky-diving, milking a cow, and learning hip-hop dance are shot with a high-end RED camera, much of the film has a rough around the edges, personal quality to it that suits the subject matter.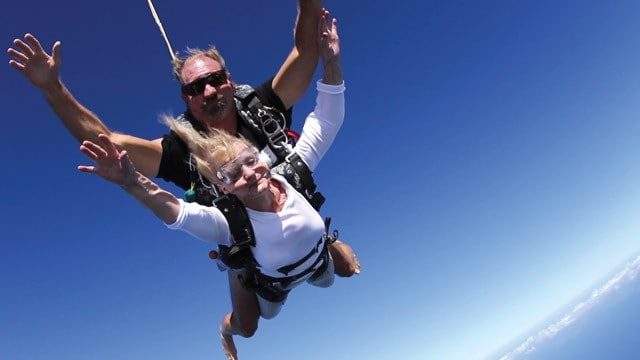 In addition to tackling large societal issues of aging, the privilege of retirement, and how western society relegates people over a certain age to spaces they don't necessarily want to be in, it is primarily about the relationship between an adult son and his mother. It's revealed during the film that Rebecca also has a daughter she did not raise, for complicated reasons, and reuniting with that daughter is another bucket list item. This raises provocative questions about motherhood and adds dimension to the portrait as it shows shortcomings that are difficult for a son to say about his mother. To his credit, Regis goes there. And the result is a fuller portrait of a real woman, a real mother, not some fantasy of one.
Duty Free is a sweet testament to the depth and complexity of an ordinary life. It shows that ordinary lives are extraordinary lives because if you look close enough there is always so much more to see in a person. And coming out as it has right around Mother's Day, it's also a beautiful investigation of the ways in which parents and children interact and respond to each other's changing needs over the course of their lifetimes.
Duty Free is screening in Waters Edge Cinema's virtual cinema May 7 – 20. Visit provincetownfilm.org/cinema for tickets and information.