]
by Rebecca M. Alvin
Top Image: New additions to the menu: (l to r) Veal alla Milanese; Italian chop salad; and Tuna Poke in crispy wonton cups.
"You can feel it in the air, this sense of relief, a sense of getting back to some degree of normalcy." Sitting in the Mews Restaurant and Café overlooking the Bay, co-owner Ron Robin is optimistic about the season. He and partner Edmund Teo, like all restaurant owners, have been through just over a year of pivoting in response to the COVID-19 pandemic with ups and downs along the way and a constant state of uncertainty. Running a restaurant is hard enough, but running one in Provincetown during unprecedented circumstances like these requires a level of creativity and positivity that the couple seems to share.
On March 17, 2020, the Mews closed in compliance with the governor's lockdown order. While some restaurants were able to quickly transform into takeout businesses, the Mews had little experience or reputation for takeout. "Our menu is not conducive to to-go," explains Teo. So they began tinkering with the menu, adding stir-frys and sandwiches in place of fine dining items people are unlikely to order for takeout beginning that April. They tried to keep their staff and were able to return to indoor dining on June 22, while continuing to do takeout. But they lacked an appropriate space for outdoor dining, as the restaurant sits as close to the high-tide mark as you're allowed behind an eroding dune, and in front, the only area for outdoor seating is adjacent to a building that has been undergoing construction, causing a less than relaxing environment for diners.
They were able to get temporary permission to erect a deck in the back, but unfortunately, due to inspection delays, missed the Fourth of July opening they wanted and instead opened it the following weekend on July 10th, which helped tremendously, as indoor seating at the time was extremely limited.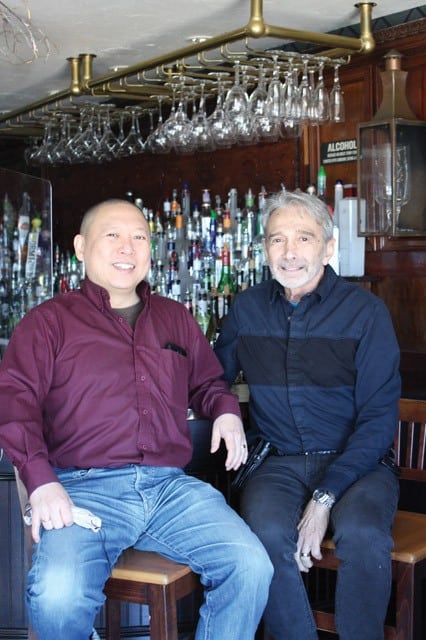 "The deck really saved us," says Teo. Robin nods in agreement. "Yeah, it really did."
But while nimbly adjusting to changing requirements, staff health and safety, and customer concerns were the top priorities, Teo and Robin also saw this as an opportunity to adjust other things at the Mews. For one thing, they'd heard over the years that their menu did not have enough vegetarian options. Robin himself doesn't eat red meat, Teo rarely does, and both are allergic to certain shellfish, so they understood the need on a personal level and realized more could be done to accommodate vegetarian and even vegan diners. The result was a new menu featuring three great vegan dishes, with the concept, as Robin puts it, "you don't have to be a vegan to enjoy this."
"Veganism for carnivores," Teo summarizes. "It doesn't have to be vegetables or beans," he says. Growing up in a Chinese household, Teo says he remembers his mother's disdain for salads, which she called "rabbit food." Although he has nothing against salads, (and in fact really likes the new Italian Chopped Salad they've added to the menu), he says, "Our main goal was to show that it can be exciting and tasty, that it doesn't have to be 'rabbit food.'"
The vegan pasta bolognese and the spinach lasagna make use of Beyond Meat, a vegan meat substitute, in their rich ragu sauce. Robin, who was raised in an Italian household, says he was excited to have bolognese, something he'd been unable to eat for many years. In addition, they offer a vegan lemon pasta pesto that utilizes nutritional yeast in place of parmesan cheese and adds something a little special with the lemon juice, "to give it brightness," as Teo explains.
They have also added new starters: a gravlax appetizer and a tuna poke bowl served in crispy wonton bowls made in-house daily. But adding the new dishes also meant making decisions about older dishes. For a time they took off the menu the popular Shaking Beef Vietnamese entrée, but the feedback they got on that one and also others they'd retired, was resounding, so you'll still find it on the menu along with other Mews favorites like almond-crusted cod and the vindaloo, which can be made with chicken, tofu, or lobster, which is a unique twist.
"The lobster was an accident," Robin says. He explains that he often tastes the sauces in the kitchen as they are preparing them, dipping a piece of bread in it. One day they were chopping up lobster meat and so he thought he'd try dipping it in the vindaloo. When he tasted it with the lobster meat, he says, "I thought, 'Oh my God! What just happened in my face?!'"
Teo emphasizes the changes to the cocktail menu as well. Long known for its extensive vodka assortment, Robin and Teo are responding to changing tastes, adding more whiskey and gin drinks, such as the Aviation, made with Truro-based South Hollow Spirits Dry Line gin, as well as a couple of cocktails with suze, a French digestif. The White Negroni and the Blonde Boulevardier are two great examples the pair rave about.
While pandemic life is starting to give way to a new version of "normal," there are still many obstacles ahead for the Mews and all restaurants on the Cape this summer, most significantly, labor shortages and the extreme difficulty in finding housing for those who want to work here. Neither Teo nor Robin have answers for this problem, and they have had to cut out their famous brunches, as well as close two days a week in response to these issues, as well as to the concern for staff burn-out with many of the COVID-19 restrictions still in place. But Robin sees a bright future. Plans were underway prior to the pandemic to add a third level by renovating the attic into a bar/lounge space. Although that had to temporarily be put on hold, the plan is back on track for this exciting new addition.
"The town will be booming," he says. "People—including ourselves—are eager to get out of the house."
The outdoor deck is permitted for 60 days beyond whenever the State of Emergency ends, so there's still time to enjoy this before it's gone.
The Mews Restaurant & Cafй, 429 Commercial St., Provincetown, is open for dinner Tuesday through Saturday from 5 p.m. For reservations and information call 508.487.1500 or visit mewsptown.com.