Lakia Mondale Goes for National Showgirl Supreme
]
by Steve Desroches
Growing up in St. Petersburg, Florida, Lakia Mondale always had a ferocious sense of independence and self. That's not to say it was easy, quite the opposite. Nevertheless, she would go to school dressed how she liked, which in those 1980s days meant dressing like Prince. Identifying at the time as an effeminate boy, the backlash to her self-expression was constant. Don't dress like that, wear a suit instead. Cut your hair. Don't walk like that. Don't talk like that. She'd come out to her mother at just 12, so she had an unusual strength and self-awareness for someone so young. But for a child trying to get an education and discover who they are, school became something to escape from rather than the refuge it should be, or could be. It was her chosen family that helped her to not only survive high school, but to thrive and find the star within.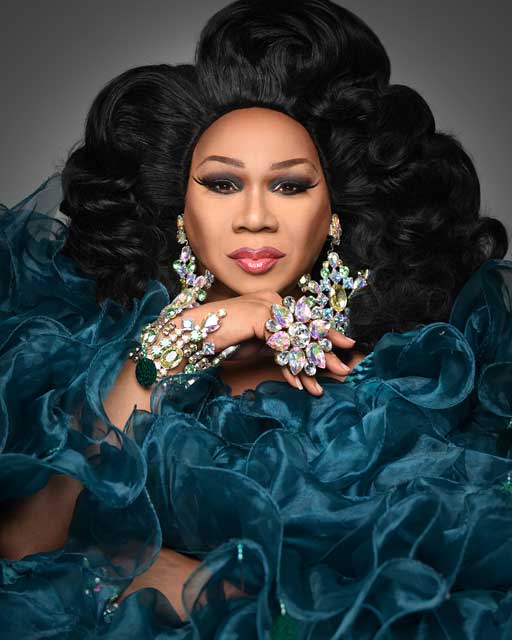 "School was not having it," says Mondale. "Some teachers embraced it. But a lot did not. I learned the system. I'd get suspended so I'd have Fridays off, and then I'd go with my friends to Miami for the weekend. That's when I began to learn how to look and dress. We'd pile into a hotel room and get in drag to go out. My mother made me get a summer job. She said to me, ' If you want to wear women's clothing that's fine, but you're going to have to pay for them yourself.' Those friends were like family; they are family. It was very much like the show Pose. My drag mother said to me, 'You're going to get a job. You're not going to go work the streets.' She gave me my first hormone shot and that started my journey on being a trans woman."
It also began Mondale's path to the stage as a drag entertainer, becoming known for her electrifying brand of performance and a commitment to elevating excellence for not just herself, but for the community of queens of which she's long been a part. Looking to leave the conservative South, Mondale took her sister's advice to move to more "open-minded" Boston, which she did right after high school and tapped into the drag scene there. She'd been a newbie on the scene at Rene's in Tampa, meeting her friends in a parking lot and getting Slurpee's at the nearby 7-Eleven before all pitching in to get a hotel room to get ready for Talent Night, an amateur drag competition. She'd entered time after time and never won. But on her last night in Florida she tore into a performance of Phyllis Hyman's classic "Old Friend" and won. It was a shot of confidence that arrived right on time.
Performing at the legendary Jacques' Cabaret led to an offer to come to Provincetown, right about 1992, joining the town's storied drag scene and blazing a trail all her own and becoming a staple to this day. She laughs at her naiveté to Provincetown's eccentric ways upon arrival. One of her first jobs was as a host at the Post Office Café, working with the late Dixie, the beloved maestro of the wacky waitstaff. That summer the crew was told to push the mudslides, and every time one was sold the server would ring a bell. Then all at once the entire staff would leave and go do a shot across the street at the Mayflower. The first time it happened Mondale was so confused, especially since the Post Office had its own bar. But Dixie said not to overthink it and just join in the fun. And she did.
With live performance making a comeback in full form this season, Mondale wows at the Crown and Anchor as one of the stars of Illusions, Provincetown's longest-running drag revue, sharing the stage this summer with Billie Jean and Roxy Pops, as well as in Divas by the Sea, the popular drag brunch at the Crown. But now that the country is opening up as pandemic protocols are rolled back, Mondale has a sparkly itch to do a pageant. She's headed back home to Florida to compete in the National Showgirl Supreme pageant in mid-July. And to help her take home the crown her drag sisters and brunch co-stars Mackenzie and Roxy Pops are hosting the Hump Day Drag Revue this Wednesday at the Crown and Anchor.
"We have this sisterhood that people don't understand," says Mondale. "It takes a lot of money to be on stage for about five minutes of magic and then that's it, it's gone. A lot of younger girls don't realize that it was an outlet to be known all over the state. But it's more than that. When you win a title you were always Miss So and So. You always grabbed that moment, forever. It was a time when you pushed yourself to be better."
Mondale has held many titles, including Miss Boston Pride 2010 and Miss Gay Massachusetts USofA 1996. As a veteran stage performer, she knows how to whip a crowd into a frenzy. That's fulfilling and satisfying as an entertainer, but there's a buzzing energy to competing in a pageant as there's more on the line when only one queen will go home with the crown, presenting an entirely different challenge and potential glory. So in between rehearsing for shows here in Provincetown and working as a medical assistant at Outer Cape Health Services, Mondale has employed a team to help her prepare. Jewelry and wig designers, back up dancers, as well as a costumer who she frequently tells "more! more! more!" when it comes to rhinestones.
Whether she takes home the crown to Provincetown or not, Mondale is and always will be a fabulous ambassador of the town, a place she's lived year-round now for four years. She shivers with a smile as she can't believe that she gets to live in "one of the most beautiful" places on Earth doing what she loves, surrounded by such a "friendly and supportive community." She frequently reaches out to give fellow queens bookings in town to share the wealth and expose Provincetown to all types of drag, some not be commonly seen here, as well as share her love for the town with performers from afar.
"People always say, 'You must love being on stage,' but being on stage is where you go to give love," says Mondale. "When you connect with an audience and you take them on a journey, that's the magic. That's the magic when you're up there and you're giving the best version of yourself."
The Hump Day Drag Revue is on Wednesday, June 9 at 7 p.m. at the Crown and Anchor, 247 Commercial St. Tickets are $20 and are available at the box office or online at onlyatthecrown.com. Lakia Mondale also appears at the Crown and Anchor in Illusions: Uptown Girls (Tickets $35) now through September 11 and Divas by the Sea Drag Brunch (Tickets $10) every Sunday now through September 12.