The Girl of a Thousand Voices Comes to Provincetown
]
by Steve Desroches
Life on the stage can be unpredictable. When opportunities arrive it's a bit like surfing, try and ride the wave as long as you can. Sometimes you take a tumble, other times you glide right onto the beach. You can do everything seemingly right and nothing happens. But break a few rules or strict theater commandments and the world can open up. Already a successful stage actor in New York and beyond Christina Bianco was looking to take her career to the next level. So she was ignoring advice to not rely on solo cabaret and certainly don't think posting on YouTube is going to do any good. But it turns out that doing both proved to be a bit of magic. Performing at Midtown Manhattan's 54 Below supper club she was inspired by one of her entertainment heroes Sammy Davis Jr., who in his act would do impressions of his fell Rat Pack members like Joey Bishop and Frank Sinatra all crammed into one song. She did the same, working in over a dozen of her impressions of famous singers as she performed the 1980s Wagnerian pop-rock opera classic "Total Eclipse of the Heart" posting a recording of it on social media. And then boom, she's on The Ellen Degeneres Show and getting booked in productions in New York and London being dubbed "the girl of a thousand voices."
Adaptable and energetic Bianco grew up in Suffern, a small village in New York just 30 miles away from Manhattan. At a young age, she felt the pull of Broadway exhibiting talent right away when it came to acting and singing. She'd dance around the house singing along to her parent's albums with an early propensity to belt out a tune. Her immense talents were evident. But one of her biggest gifts at first seemed destined to be a party trick. She could do impressions of just about anyone after only a quick study of their vocal idiosyncrasies.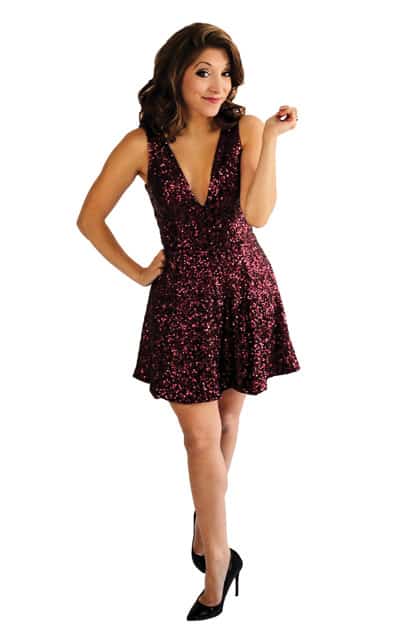 "Apparently I've always done voices," says Bianco from her home in New York City. "I guess I've always been a mimic, but I never did it as a performer for years until recently. I was always, always a theater kid and listened to cast recordings all the time. I'd sing along to Judy Garland in The Wizard of Oz and Julie Andrews in Mary Poppins, but I'd sing as them, not in my own voice. I had an ear for it. My mother would say, 'Now Christina, why don't you sing with your own voice?'. I just could pick up someone's voice so quickly. It really became an asset that I could entertain and make people laugh."
Embracing the inner chorus of voices within gave Bianco access to a much bigger audience allowing her to showcase her own powerhouse vocals. After all, for the impressions to be impressive you need to know what she sounds like herself. From that viral video, with over 25 million views, Bianco landed a role in Forbidden Broadway, alternating between New York and London's West End as well as parts in productions of Joseph and the Amazing Technicolor Dreamcoat in Chicago and the chance to create the role of Fanny Brice in the French premiere of the very American musical Funny Girl at the Théâtre Marigny in Paris, for which she received rave reviews. That would be her last role before the pandemic hit. But she's back on the road with her multi-voiced solo cabaret show Crowd Control coming this week to the Crown and Anchor, a musical comedy offering some of her best impression work as well as her own arrangements of some of her favorite songs. Whether it be Adele or Christina Aguilera, Celine Dion, or Liza Minnelli covering Billie Eilish's "Bad Guy", Bianco has a Rolodex of voices at the ready. And producing videos throughout the pandemic was a good way to stay vocally ready and busy as she turned the apartment she shares with her husband Billy and their schnoodle Jeff Vader into a recording studio and sound stage. While live gigs dried up during the pandemic the voice-over work she already had increased, as she could record the work from her linen closet. And one of those jobs allows her to stay close to a performance genre she loves and in part, her own work as an impressionist is a cousin to: drag queens. For the past four years Bianco has worked consistently with the production of RuPaul's Drag Race, often being the voice the queens are lip-synching.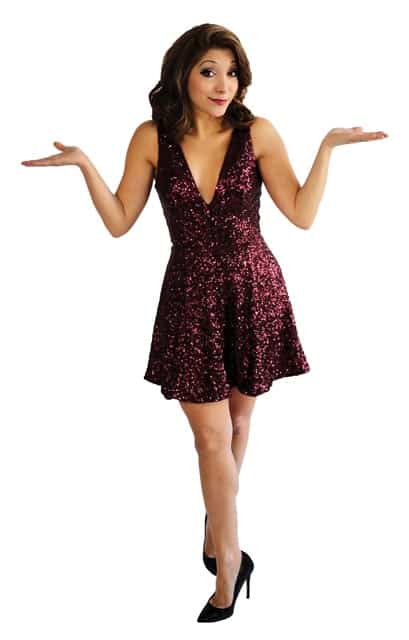 "RuPaul tweeted one of my videos and gave me the drag name 'Shelarious'," says Bianco. "I'm so honored to get a drag name from RuPaul. I got a call later from the producers about the voice-over work. I've done so much of it. BenDeLaCreme performing 'Call Me Mother' as Julie Andrews, that's me. I get blamed all the time for Thorgy Thor's elimination. It was not my fault."
Performing in Provincetown has long been a dream of Bianco, and not just because her drag pals rave about the town. She just knows that Provincetown is her target audience for her shows that are as professional as they are unpredictable, wacky as they are top-notch entertainment. Not a costume show, Bianco dresses each character with just her voice and movements eliciting laughs that lead to being bowled over by such a big sound coming out of such a tiny person (she's only 4' 11"). And just like her character in Funny Girl, no one is going to rain on her parade when she finally arrives in Provincetown.
"You all need to get ready," says Bianco. "I was supposed to play Provincetown three times before and had to cancel as each time something came up that took me to a job out of the country. All three times! I was afraid the Crown and Anchor was going to think I was a flake and was so happy when they wanted me to come this summer. So look out Provincetown, I have three pent-up shows to present all in one."
Christina Bianco presents Crowd Control Tuesday, June 29 through Thursday, July 1 at 6 p.m. at the Crown and Anchor, 247 Commercial St., Provincetown. Tickets ($45) are available at the box office and online at onlyatthecrown.com. For more information call 508.487.1430.