]
A veteran of the publishing world, Jeff Peters had always wanted to open his own bookstore, but to the patrons of East End Books Ptown, this likely comes as no surprise. The Florida native's unwavering passion is obvious as he shows off the store's diverse, tasteful, and exciting selection of literature, from biographies to cookbooks to queer fiction and more.
In business for only six years, East End Books has quickly become a household name in Provincetown and beyond, as has Peters himself. Partnering with the likes of Truro Center for the Arts, the Fine Arts Work Center, and the History Project, Peters has emerged as something of a local literature icon. At the same time, the bookstore has quickly become the center of Provincetown's literature scene, drawing creatives like John Waters, Michael Cunningham, and Chloe Grace Morentz to pop into the store for book signings, literary salons, or just to drop by. Peters says that the atmosphere of Provincetown, buzzing with so many creative minds, is what he loves the most about running the store.
Despite his great success, Peters is remarkably conscious of East End Books' vulnerability as an independent bookstore in the era of Barnes & Noble and Amazon. But he isn't too worried. "Independent bookstores are kind of the lifeblood of the publishing industry and authors," Peters says, "the way that good books continue is by recommendations by individual booksellers." While your average corporate bookstore may be pumping out the biggest bestsellers and making huge profits doing it, independent sellers have authenticity and unique taste that is truly unmatched. East End Books promises to show you books that you will connect with and that will bring you closer to your community through literature.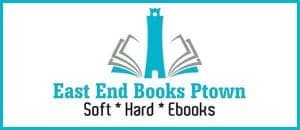 East End Books Ptown
389 Commercial St.
Provincetown, MA 02657
508.413.9059
eastendbooksptown.com