Halloween and the Culture of Drag Queens
by Steve Desroches
Top Image: Anita Cocktail, Miss Conception, and Roxy Pops.
Every day is Halloween when you're a drag queen. And drag queens, in one form or another, have been an influential part of the celebration of Halloween in America for well over 100 years, whether the mainstream knows it or not. That's why it's comically odd and fabulously ironic that when it comes to what many in the LGBTQ+ community call "Gay Christmas" it's been increasingly common for drag queens to kick off the high heels and snatch off the wigs to take Halloween night off.
"I spend most of the year getting dressed up so why would I want to do it on the night everyone else gets dressed up," says Michael Steers, otherwise known as Anita Cocktail who presents the Anita Cocktail Variety Hour at the Post Office Cabaret. "It's nice to have one night where I can appreciate everyone else's costumes and looks."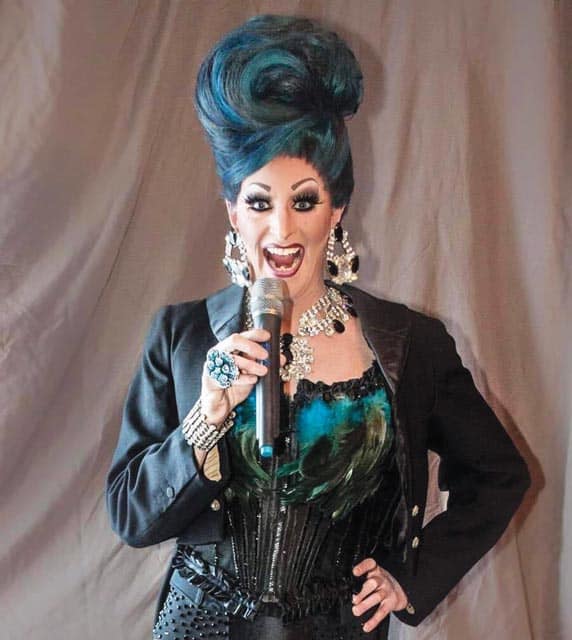 Don't get him wrong, Steers loves Halloween. But after a summer of entertaining tourists and townies alike, the last thing he wants to do is hit Commercial Street and jump into the Halloween fracas in his "work clothes." It's a common sentiment among drag performers nationwide who frequently take a playful jab and call Halloween "amateur night." It's a pretty remarkable turn of events, culturally. In LGBTQ+ history Halloween night was one of the rare instances of freedom in pre-Stonewall America, and drag queens were a big part of the public display LGBTQ+ people participated in every October 31.
A long-standing practice on Halloween dating back to the 19th century was so called "cross-dressing." In a night where the conventional rules of society are suspended this fit in perfectly to elicit laughs at the time and playfully poke fun at those very conventions that come November 1 will fall back into place. A good example of the popularity of gender play on Halloween is the 1944 film Meet Me in St. Louis. While often thought of as a Christmas movie, as it's the debut of Judy Garland singing "Have Yourself a Merry Little Christmas," the film's depiction of Halloween night in 1903 is noted by folklore historians as remarkably accurate in its depiction, which includes all the girls dressed as boys and vice versa.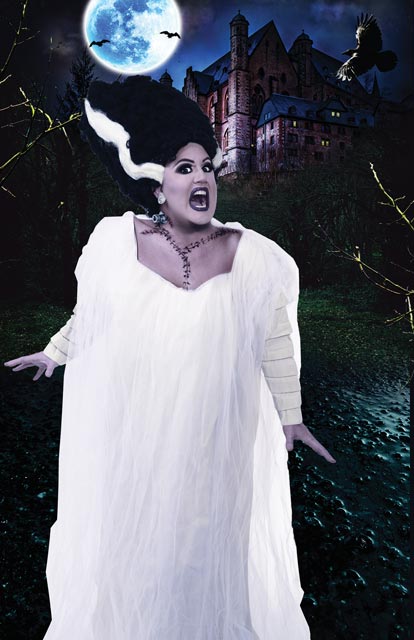 For the LGBTQ+ community, Halloween provided a certain amount of not only protection, but also accolade. There was an informal agreement that the police would not raid gay bars on Halloween and also allowed for "drag parades" by not enforcing anti-cross-dressing laws of the day. This is when drag became a central part of urban Halloween celebrations, especially in Philadelphia and Pittsburgh where cross-dressing was a big part of Mummers celebrations. In addition, with the Great Migration, when millions of Black Americans left the South for cities in the North, Midwest, and West, the drag balls of LGBTQ+ Black Southern people became popular nationwide, and often in those early days Halloween included fully integrated drag Halloween parties and parades. And then there was the "Pansy Craze" of the 1930s, an entertainment phenomenon driven by Prohibition, as anything illegal, like drag performance, was allowed in speakeasies, giving popularity to drag as an art form. High heels and Halloween have been intertwined ever since. And now it's often the case that many first do drag on Halloween or Pride for their first time.
"Lots of drag queens were born on Halloween," says Kevin Levesque from his home in Toronto where he began performing as his drag character Miss Conception. "Everyone puts on a wig and some makeup looking like a can of smashed assholes. And then just a few years later, they're a gorgeous queen making a ton of money. So many of the big stars of today came out of Halloween."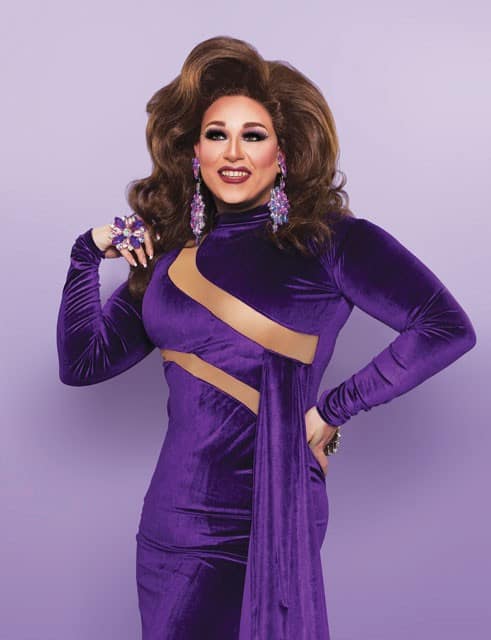 This weekend in Provincetown both Steers and Levesque have special Halloween shows, which they're delighted to do. No matter the custom, work is work, and they'll take it even if it lands on the 31st. But often the big money is putting other people in drag, which they both have done for years at times and get requests starting in September. Perhaps it's another twist in the story of drag and Halloween, but many performers say the holiday brings out the man in them. With so much of drag focusing on the feminine, it's with the theme of Halloween to do the unexpected. And for queens, that means not shaving and butching it up for the night. Once done with all the shows, Steers plans on just handing out candy to trick-or-treaters with his husband in their Eastham neighborhood, sans costuming of any kind, while Levesque leans into the fetish elements of Halloween in Provincetown and will either wear a wrestling singlet or leather gear, forgoing the normal sparkle and shine of Miss Conception. For Roxy Pops, a.k.a. Devin Marchany, one of the stars of Illusions and Divas by the Sea Drag Brunch at the Crown and Anchor, he, too, will begin the day in high feminine mode and then, come nightfall, camp up his masculinity.
"Honestly, Halloween is one of the times I gravitate to be one of the boys," says Marchany. "I haven't done drag on Halloween in years, maybe five years or so. For me it's work, it's my job, so unless I'm working that night I'd prefer to dress as a boy. Years ago my friends and I all went out as gladiators. A few years ago we were gay residents of Oz, wearing gingham harness and red shoes. Drag is uncomfortable, so I much prefer to go out as a boy as it's much easier to have fun without heels slowing you down."
A Beary Spooky Miss Conception is at the Pilgrim House, 336 Commercial St., Friday, October 29 and Saturday, October 30 at 7:30 p.m. Tickets ($30/$40) are available at the box office and online at pilgrimhouseptown.com. For more information call 508.487.6424. The Anita Cocktail Variety Hour is at the Post Office Cabaret, 303 Commercial St., Friday, October 29 and Saturday, October 30 at 7:30 p.m. Tickets ($35) are available at the box office and online at postofficecafe.net. For more information call 508.487.0087. Divas by the Sea Drag Brunch is at the Crown and Anchor, 247 Commercial St. on Sunday, October 31 at 11:30 a.m. Tickets ($15) are available at the box office and online at onlyatthecrown.com. For more information call 508.487.1430.
]