Top Image: A scene from Strauss's Ariadne auf Naxos. Photo: Marty Sohl / Met Opera
MET Opera Has Returned to WHAT
The 2021-22 season of live broadcasts at Wellfleet Harbor Actors Theater (WHAT) began in October and features ten operas, with four Met premieres and two new productions. Tickets are now on sale. Due to reduced capacity, advance online ticket purchases are strongly encouraged. The season kicked off with two operas in October: Boris Godunov and Fire Shut Up in My Bones. What follows is the remainder of the season.
December 4, 2021, 12:55 p.m. – Eurydice (Matthew Aucoin) New Production/Met Premiere: Brilliant American composer Matthew Aucoin brings a new take on the ancient Greek myth of Orpheus. With a libretto by Sarah Ruhl (The Clean House, In the Next Room or The Vibrator Play), adapted from her acclaimed 2003 play, the opera reimagines the familiar tale from Eurydice's point of view. 3:03 (183 minutes)
January 1, 2022, 12:55 p.m. – Cinderella (Massenet) In this New Year's Day performance, Laurent Pelly's storybook staging of Massenet's Cendrillon, a hit of the 2017–18 season, is presented with an all-new English translation in an abridged adaptation. 1:47 (107 minutes)
January 29, 2022, 12:55 p.m. – Rigoletto (Verdi) New Production: Tony Award­–winning director Bartlett Sher's bold new take on Verdi's timeless tragedy resets the opera in 1920s Europe, with Art Deco sets by Michael Yeargan and elegant costumes by Catherine Zuber, themselves boasting a combined 11 Tony Awards. 3:26 (206 minutes)
March 12, 2022, 12:55 p.m. – Ariadne Auf Naxos (R. Strauss) The exhilarating soprano Lise Davidsen makes her Live in HD debut in one of her signature roles, the mythological Greek heroine of Strauss's enchanting masterpiece. 3:04 (184 minutes)
March 26, 2022, 12 p.m.* – Don Carlos (Verdi) New Production/Met Premiere: For the first time in company history, the Met presents the original five-act French version of Verdi's epic opera of doomed love among royalty, set against the backdrop of the Spanish Inquisition. 5:14 (314 minutes) *please note differing start time.
May 7, 2022, 12:55 p.m. – Turandot (Puccini) Superstar Anna Netrebko makes her long-awaited Met role debut as Puccini's icy princess, with tenor Yonghoon Lee as the bold prince determined to win Turandot's love, soprano Ermonela Jaho as the devoted servant Liù, and legendary bass Ferruccio Furlanetto as the blind king Timur. 3:26 (206 minutes)
May 21, 2022, 12:55 p.m. – Lucia Di Lammermoor (Donizetti) New Production: Soprano Nadine Sierra takes on one of the repertory's most formidable and storied roles, the haunted heroine of Lucia di Lammermoor, in an electrifying new staging by in-demand Australian theater and film director Simon Stone, conducted by Riccardo Frizza. 3:44 (224 minutes)
June 4, 2022, 12:55 p.m. – Hamlet (Brett Dean) New Production/Met Premiere: When Australian composer Brett Dean's Hamlet had its world premiere at the Glyndebourne Festival in 2017, The Guardian declared, "New opera doesn't often get to sound this good … Shakespeare offers a gauntlet to composers that shouldn't always be picked up, but Dean's Hamlet rises to the challenge." 3:34 (214 minutes)
WHAT looks forward to inviting the community back inside the theater, with upgrades to the ventilation system to increase fresh air turnover. To protect the health and safety of the audience and staff, masks and proof of vaccination are required. Seating is reserved and adheres to current guidance from the Commonwealth of Massachusetts to protect the health of staff, artists, patrons, and community. To learn more about current policies and what to expect when attending a performance please visit what.org/public-health-and-covid-19. Tickets: $30 / $27 seniors / $15 students.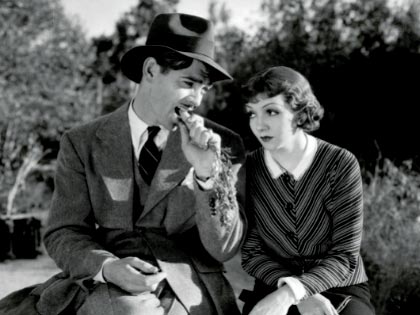 Just for Laughs: Four Classic 1930s Comedies
A new virtual film series curated and hosted by Marc Strauss and presented over Zoom latest virtual film and discussion series brings four classic comedies into your living room each Friday this November. Dr. Strauss will introduce each film and lead a discussion following each screening. The remaining films are:
Friday, November 12, 7 p.m.: It Happened One Night (Feb. 1934)–Clark Gable and Claudette Colbert were never better in this Oscar-winning romantic comedy by Frank Capra.
Friday, November 19, 7 p.m.: The Thin Man (May 1934)–More than slightly tipsy Nick and Nora and Asta Charles, in the first and best of the six Thin Man series films, investigate the disappearance of an inventor in this classic Dashiell Hammett-scripted comedy mystery.
Friday, November 26, 7 p.m.: It's a Gift (November 1934)–W. C. Fields is a grocery store owner who goes West with his family. Charles Sellon as a blind man, T. Roy Barnes as a salesman looking for a certain Carl LaFong. Access is $10 per film, or enjoy the entire series for $30. For tickets and information visit what.org.
]