Jessica Vosk Returns to Provincetown for New Year's Weekend
by Steve Desroches
Jessica Vosk is head and shoulders above everyone on Broadway, quite literally, and actually much higher than that. Prior to the pandemic Vosk soared in the musical Wicked as Elphaba at New York City's Gershwin Theatre, delivering the show-stopping "Defying Gravity" at the end of Act I, 40 feet above the stage. But this wasn't her first flight on the Great White Way. In the 2016 revival of Fiddler on the Roof Vosk wowed audiences as the vengeful ghost of Fruma-Sarah, who appears in Tevye's concocted nightmare with a warning of otherworldly murder should the marriage of his daughter Tzeital and Lazar Wolf come to fruition. In another scene-stealing moment, the message from beyond the grave is delivered in a towering performance, both in voice and with Vosk soaring above the ensemble with phantasmal shrieks and wails. Considering the stamina needed to perform on Broadway, with singing, acting, and dancing for over two hours, it's a Herculean task to add in stunt work that takes Vosk into the rafters.
"I always tell people that it might surprise those not in our world, the muggles, that it's quite an Olympic feat performing on Broadway," says Vosk. "It's exhausting doing eight shows a week, not just the physicality of a show, but also singing one of the coolest moments in musical theater. Little does everyone know that I'm standing on a little piece of metal about the size of my foot and thinking, 'Don't move.' But that's the magic. When I was playing Fruma-Sarah I kept calling myself 'Dead Elphaba.' I guess I manifested the role in Wicked."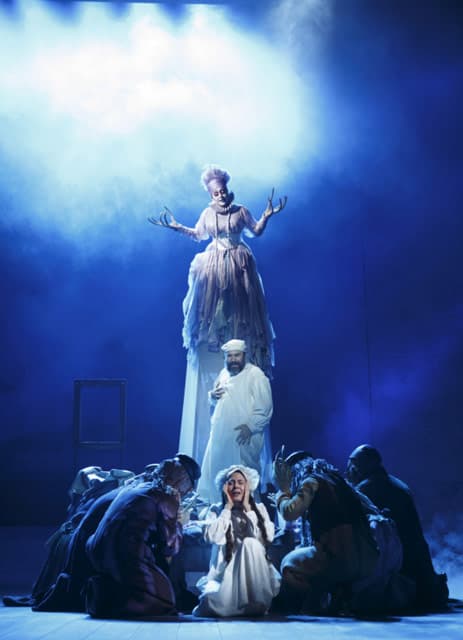 While her voice will certainly reach the stratosphere, Vosk will have both feet on the ground when she performs two concert-and-conversation shows at the Art House this New Year's Eve weekend with Seth Rudetsky as pianist and host. But prior to coming to Provincetown again, after making her town debut this past summer, Vosk can add another triumph to her resume: her first solo show at Carnegie Hall.
On November 8 Vosk performed My Golden Age, a concert performance, with a 13-piece orchestra, of songs by artists, composers, and lyricists that were influential to her as a child growing up in New Jersey, like Barbra Streisand, Judy Garland, Bette Midler, Linda Ronstadt, and more. It's basically an homage to the "brassy boss ladies" the inspired Vosk to ditch her job as a financial investment relations executive on Wall Street and follow her dream to be a Broadway star, which she did when she made her debut as a swing actor in the production of the musical The Bridges of Madison County eight years ago. It's been a meteoric rise ever since.
The show at Carnegie Hall is really coming full circle for Vosk. Not long after taking the leap from the world of finance to musical theater, she received her big break. While trying to get her foot in the door Vosk performed frequently at venues like Birdland and the Duplex, as well as in roles in shows and revues at small venues like the Laurie Beechman Theatre. It was during this time she caught the attention of musical director and conductor Paul Gemignani, who was so impressed with her vocal prowess and stage presence he offered her a role in his new project without an audition. That show, an English language concert adaptation of Kristina, a Swedish musical written by Benny Andersson and Björn Ulvaeus of the mega pop group ABBA, was staged at Carnegie Hall in 2009 and then again in London at the Royal Albert Hall in 2010. While Andersson and Ulvaeus are known for writing global Euro pop hits and of course their jukebox musical Mama Mia!, this musical was a lush orchestral piece with some of the "most beautiful music," says Vosk. It was quite the entrée to the world of musical theater.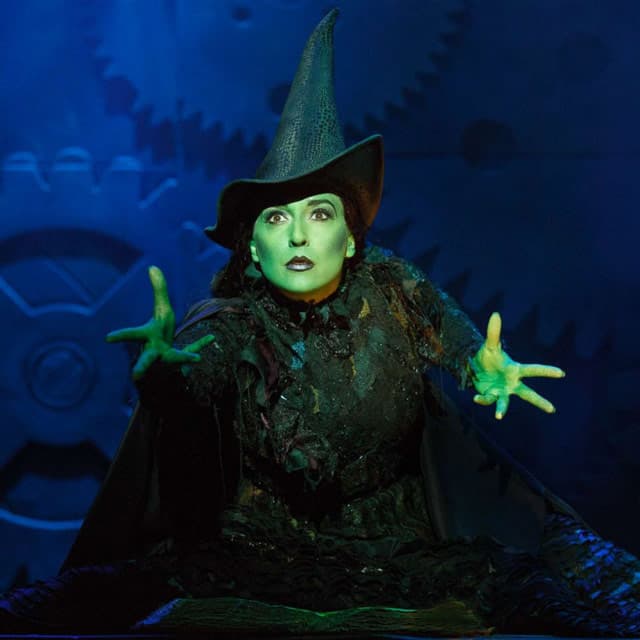 "At the after-party after the Royal Albert Hall show, we were in Elton John's piano room, you know, as you do," laughs Vosk. "And Benny sat down at the piano and began to play. I said to myself, 'You know Vosk, now's the time to just go for it.' I went over and sang 'The Winner Takes It All.' All of that was one of the best experiences of my life."
With New York City's theaters coming back to life, Vosk can feel the corresponding excitement of all those who work on and off the stages of Broadway. She's taken in a few shows herself, and feels both relieved that this world she loves so much is all coming back and that it's doing so with firm Covid safety protocols. The pandemic put so many dreams on hold. In the fall of 2019 Vosk appeared in Becoming Nancy at the Alliance Theatre in Atlanta. The new musical is based on a true story about a gay schoolboy in 1970s London who is cast as Nancy in his secondary school's production of Oliver. Vosk says the experience was great and that there were hopes the show would eventually make its way to Broadway. And perhaps now it will, as the creative pipelines are unclogging. As for now, she's basking in the glow of Carnegie Hall and looking forward to welcoming 2022 here in Provincetown.
"I'm obsessed with it," says Vosk of Provincetown. "When I first went I was like, 'okay, this is where I want to go when I die. This is my gay heaven.' I loved it immediately. I couldn't believe it took me so long to visit. I loved the neighborhood I was in. One day I was walking down the street and passed a group in drag as The Golden Girls and then minutes later I'm eating this great bruschetta at a cute little place by the water. It's pretty amazing there. I'm so looking forward to spending New Year's Eve there."
Jessica Vosk performs with Seth Rudetsky as pianist and host at the Art House, 214 Commercial St., Friday, December 31 and Saturday, January 1 at 7 p.m. Tickets ($50/$75/$100) are available at the box office and online at ptownarthouse.com. For more information call 508.487.9222.
]