by Steve Desroches
The babies are asleep, for now. Chasten Buttigieg lets out a soft laugh and a sigh. He can talk for as long as his 18-month-old twins, (a son and a daughter, Gus and Penelope, he's raising with his husband Secretary of Transportation Pete Buttigieg) stay down for their nap. The Buttigieg home in northern Michigan is quiet at the moment, a rarity, and not only because they have two young children. Since the two met in 2015, and then married in 2018, their lives went from relative calm (as Secretary Buttigieg was then the mayor of South Bend, Indiana, a small midwestern city of just over 100,000 people), to the frenzy of the presidential campaign for the 2020 election in a crowded Democratic primary where there was added attention for him being the first major LGBTQ candidate for the presidency. It's been a whirlwind, to say the least, and an adjustment to living under the microscope of being a Washington family since Pete Buttigieg joined President Biden's cabinet in January of 2021.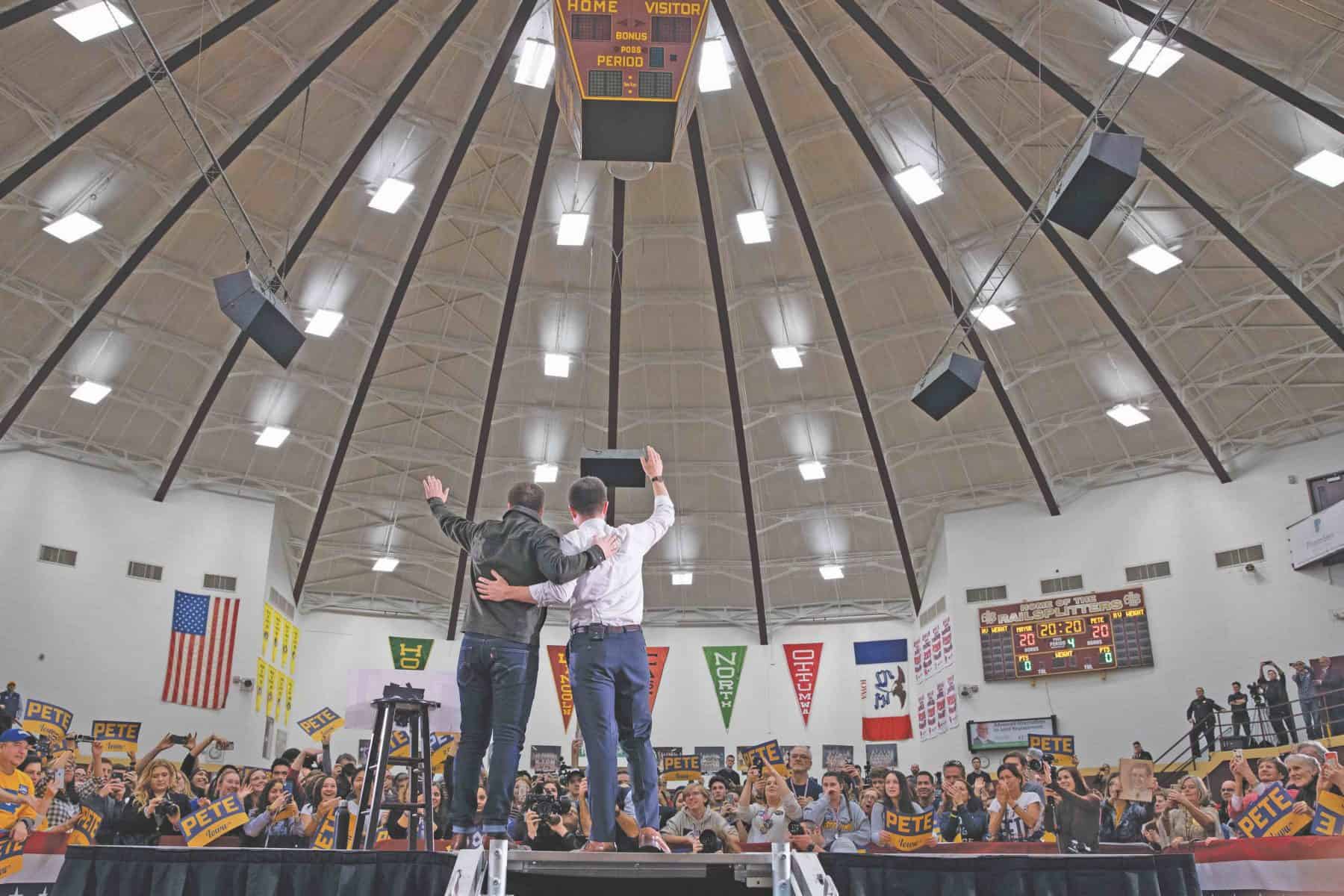 For Chasten, the trajectory of his life, especially as of late, is a remarkable story, one that he details in his 2020 memoir I Have Something To Tell You, which chronicles his life, from growing up in conservative rural Michigan to his current role as the Washington, D.C., spouse of an historic presidential candidate, a powerful voice of the executive branch, and a cultural inspiration or a target, depending on where one falls in the culture wars. And of course, creating a family and raising children amidst it all. As Chasten has toured the country several times over, he's frequently heard that his story has helped many process their own upbringings in towns where they didn't fit in and were ostracized, saying they wished stories like his were accessible to them when they were younger as they would have felt less alone.
As such, the book has been adapted for younger readers, age 12 and up, under the same title. And as he tours the country promoting this new version, Buttigieg is making a stop in Provincetown on Monday in a special Family Week event at the Crown and Anchor where he'll be in conversation with Family Equality CEO Stacey Stevenson.
"At a time when we're seeing threats to our freedoms everywhere, from state legislatures to the highest court in the nation, creating a space for LGBTQ+ families to find friendship, build resilience, and have fun has never been more important," says Stevenson. "And we're delighted to bring Chasten Buttigieg to Provincetown to share tales from his new book and from his life growing up in a rural midwestern town. His book talks about what it was like to not fit in and how he moved from trying to blend in to feeling seen and accepted. And isn't that what we all come to Provincetown for?"
Since the original I Have Something To Tell You came out, things have changed dramatically in the United States for the LGBTQ community. With legislative and cultural attacks on transgender people, especially youth, an anti-drag backlash, and a Supreme Court hostile to LGBTQ equality, Buttigieg says he "did not think [the book] would be coming out in the climate it is." But this is exactly the moment to stand firm, speak out, and refuse to allow LGBTQ people to be erased, once again, from public life. And Buttigieg has had a crash course in living a public life and the pitfalls associated with it. His husband, and at times he, have been the focus of homophobic insults hurled at them by everyone from former Vice President Mike Pence to Republican Congresswoman Lauren Boebert. But there were also slings and arrows from within the LGBTQ community during the presidential campaign over concerns the Buttigiegs were following a heteronormative path and might not be "gay enough" to fully represent the LGBTQ community. It was a lot to process.
"When I first went out on the campaign trail I felt like I had to be perfect," says Buttigieg. "But I eventually realized all I had to be was myself. There wasn't any rule book or play book to follow, especially as a gay spouse of a candidate. There was all this pressure for me to craft a persona of someone other than myself. I just need to be my authentic self and if people don't like me, at least they don't like me for who I am and not me pretending to be what I'm not."
The attention on the Buttigiegs shows no signs of waning as Secretary Buttigieg implements the massive infrastructure bill passed in 2021 and Chasten shifts his work from being a former teacher to becoming an advocate for education in general and for protecting LGBTQ youth and families. And of course there will be the constant speculation as to when, if ever, Secretary Buttigieg might run for president again. Chasten is focused most of all on his family and being a dad to their children. He finds himself in a role that women have been in since the founding of the Republic when married to a politician, maintaining one's own identity, but also taking part in the social aspects of Washington life and lending a hand when needed on a campaign or in public relations moments.
His husband's presidential campaign brought both of them to Provincetown for the first time in July of 2019 in a historic day for the town that was vastly different than the grab-the-cash and go events of other candidates over the years. Recognizing Provincetown's role in the LGBTQ community and the historic nature of his candidacy, the Buttigiegs made certain their visit here was open to all and included unscheduled public appearances, making it a day to remember for Provincetown.
"It was such a beautiful event and there was so much excitement," says Buttigieg. "We talked to so many people from all generations that told us what it meant to see my husband run for president and a couple like us on the campaign trail. The whole visit just had so much energy and excitement. I remember security getting nervous because when we walked the streets the crowd got so big. It was such a great day. Definitely a highlight of the whole campaign."
Chasten Buttigieg will be in conversation with Family Equality CEO Stacey Stevenson on Monday, July 24 at 2:30 p.m. at the Crown and Anchor, 247 Commercial St. For more information and to register for the event visit familyequality.org. To purchase either version of I Have Something To Tell You please visit your local bookseller.
]