The Provincetown Community Compact presents the 34th Provincetown Swim for Life & Paddler Flotilla set for Saturday, September 11, 2021; Make Waves!
Legendary fundraiser, the Swim for Life & Paddler Flotilla, sponsored by the Provincetown Community Compact, will Make Waves on Saturday, September 11, with a new harbor swim route, a new time, and a new post-Swim Mermaid Tea! Artist Jim Youngerman, a longtime Swim for Life swimmer from Lenox, Mass., has created the 2021 Swim for Life design.
Catching the wave of enthusiasm and relief as the pandemic winds down, the 34th Provincetown Swim for Life & Paddler Flotilla welcomes swimmers, volunteers, kayakers, boaters, and the public back to town for this quintessential Provincetown tradition. The event has raised over $5M since 1988 for AIDS, women's health, and the community.
The new shoreline swim route will run along Provincetown Harbor's East End from the beach at Snail Road to the new town-owned East End Waterfront Park, a 1.2-mile distance. The Swim will coincide with high tide at 3pm. High tea, catered as usual by Far Land Provisions, will be served under the tent at Waterfront Park. Registration will remain at its traditional location on the expansive deck of the Boatslip Resort & Beach Club starting at 10 a.m.
For those who prefer fresh water, the organizers are awaiting permits from the towns of Eastham and Wellfleet for the use of the Great ponds in both towns. These Swims will be open for a limited number of swimmers. Those unable to swim on the Cape in person are invited to participate virtually. During the 2020 pandemic, swimmers, bikers, and paddlers participated and raised pledges in 26 states.
"The Swim and the community made waves in response to HIV/AIDS and now we have a renewed mission to strengthen our resilience as we act to create a more diverse and equitable future," states artist and Compact director Jay Critchley. "Let's come together once again in a joyous celebration in the town that we all love and support."
Beneficiaries of the September 11 Swim include: the AIDS Support Group of Cape Cod (ASGCC), Helping Our Women (HOW), Outer Cape Health Services, Provincetown Rescue Squad Association, Lower Cape Ambulance Association, Soup Kitchen in Provincetown (SKIP), Provincetown Schools, The Compact Community Fund, Accessible Provincetown, West End Racing Club, and Cape Cod Children's Place.
Business sponsors include: Seamen's Bank, Fanizzi's Restaurant, Provincetown Banner, Boatslip Resort & Beach Club, Lobster Pot Restaurant, Farland Provisions, Cape Air, Bay State Cruise, Berta Walker Gallery, Art's Dune Tours and WOMR 92.1, with support from the Provincetown Visitor Services Board. New sponsors this year include: Provincetown Aquasports, Cape Cod 5, Cranberry Square Dermatology, The Palette Fund, and Arthur H. Platt Trust.
For registration details and donations, contact Swim4Life.org.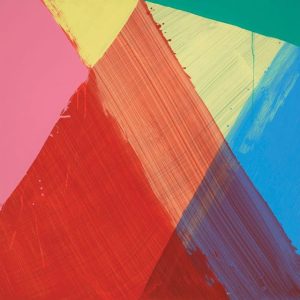 Three Artists Selected as Recipients of PAAM's Annual Lillian Orlowsky and William Freed Grant
The Provincetown Art Association and Museum is thrilled to announce the 2021 Lillian Orlowsky and William Freed Grant recipients: Cat Balco of Hamden, Conn.; Michelle Muldrow of Portland, Ore.; and Elizabeth Tremante of Los Angeles, Calif. The three were awarded a total of $30,000 and will have a group exhibition at PAAM in 2022. The jurors were painter Sam Messer; Kate Crawford, The William Cary Hulsey Curator of American Art at the Birmingham Museum of Art; and Portland, Oregon-based artist Genevieve Busby.The Lillian Orlowsky and William Freed Grant is awarded annually to under-recognized American painters over the age of 45 who demonstrate financial need. The mission of this grant is to promote public awareness of and a commitment to American art, and to encourage interest in artists who lack adequate recognition. The Orlowsky and Freed Grant was started in 2010. There have been 40 recipients to date with more than $340,000 being dispersed to under-recognized American painters over the age of 45.
Project Number Two for the Provincetown Public Art Foundation
Join the Provincetown Public Art Foundation, in partnership with the Provincetown Arts Society, on Friday, July 23, 5 – 7 p.m. for a fundraising event that will include the unveiling of the scale model portrait for the planned life-size sculpture in bronze of Mary Heaton Vorse by Penelope Jencks to be sited at the Mary Heaton Vorse House as the Foundation's second public art project. Jencks is a world-renowned artist, highly regarded for her monumental commissioned sculptures of such prominent individuals as Eleanor Roosevelt, Robert Frost, and Aaron Copeland. Mary Heaton Vorse was an iconic writer, activist, and leader of the women's suffrage movement. She gathered intellectuals and creative luminaries from all over to her salon and, and as such, has been described as the Gertrude Stein of Provincetown.
This event kicks off the first phase of the PPAF capital campaign to fully fund this life-sized sculpture in bronze. Jencks will speak about her work and painter Salvatore Del Deo will join her to share his personal recollections of Vorse, whom he knew well. Afterward, there will be a Q&A. As an added gift, two lucky ticket holders will win an artistically embellished copy of the book, Eleanor Roosevelt on Riverside Drive, which documents the process of creating that historic monument. Purchase your tickets here: eventbrite.com/e/mary-heaton-comes-home-tickets-163582005181. Refreshments will be served.
]